Myofascial Release Teacher Training (8 day course)
February 11, 2020 February 20, 2020
Series Of Classes
Myofascial Release Teacher Training with Amanda Koh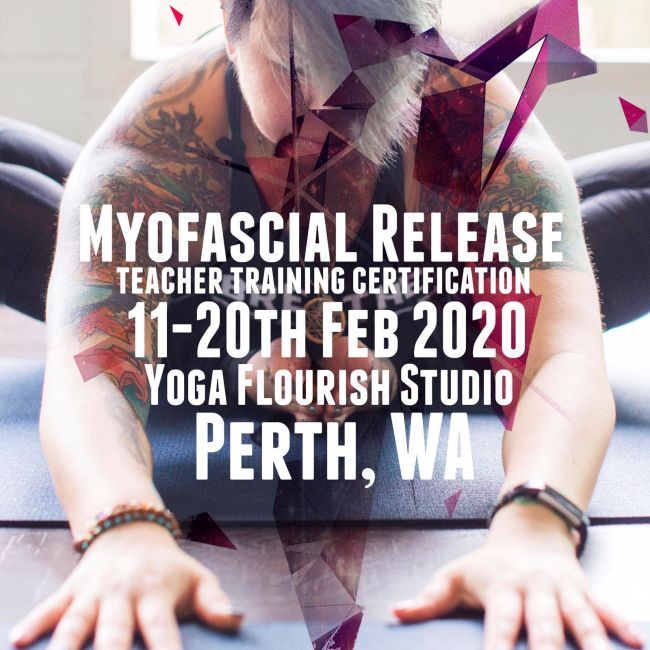 We used to think that if a muscle is tight we stretch it but now we know that stretching doesn't alleviate the tension and only causes potential instability or injury. We should instead know to release and move the muscle. Knowing how to teach Myofascial Release can and will add value to your teaching repertoire.
You will learn how to feel and manipulate fascia and free fascial restrictions Explore and understand anatomy of fascia and the Myofascial trains. Understand the connection between trauma and fascia. Learn about the superficial lines (connective tissue). Understand body reading and how to use your intuition while working with myofascial release techniques.
Learn to sequence a Myofascial Release session with clear objectives in mind. Learn how to incorporate the Myofascial Release practice to free the body from inhibitions in movement and physical performance. Through demonstrations and practice, use myofascial release techniques for the entire body, including sacrum, pelvis, ankles, feet, legs, shoulders, arms, neck, jaw and face, lower back and arms.
This Myofascial Release TT will provide a whole lot of new information on how the fascia moves the body and how we can work with new information to deepen our mind body connection
This is a full time TT running
ARRIVE FOR 8.30AM SET UP
CLASS COMMENCING DAILY AT 9AM


ONE AND A HALF HOUR BREAK FOR LUNCH
12PM - 1.30PM
FINISHING DAILY AT 4.30PM
You will have the weekend free as we will run from Tuesday to Friday and then Monday to Thursday. Venue: Yoga Flourish Unit 5/2 Warton Road Huntingdale
Date: 11-20 February 2020
Early bird rate $990 if paid by 31st Dec 2019
$1250 after 31/12/19
The class takes place on...
February 11 at 8:30 am (Tuesday)
February 12 at 8:30 am (Wednesday)
February 13 at 8:30 am (Thursday)
February 14 at 8:30 am (Friday)
February 17 at 8:30 am (Monday)
February 18 at 8:30 am (Tuesday)
February 19 at 8:30 am (Wednesday)
February 20 at 8:30 am (Thursday)

Series Cost
A$1,250
Click the button below to purchase this class series. You will be registered to attend all the classes in the series.